About Us
Building
EXTRAORDINARY MILLIONAIRES
Alliance In Motion Global also known as AIM Global is a leading Direct Selling Company with over 5 million distributors across the globe. Founded on the principle of changing lives through its remarkable products, proven compensation plan and charitable programs, the company has been delivering its promise for more than a decade now, as the results speak for themselves.

With its phenomenal sales contribution through its dynamic product line, the industry recognized and awarded its products with several achievement awards from entities engaged with product leadership and excellence in the country.
Know More
PACKAGES | ED Plan 3.0
New Global Packages for Nigeria
₦79,990
Enterpise Package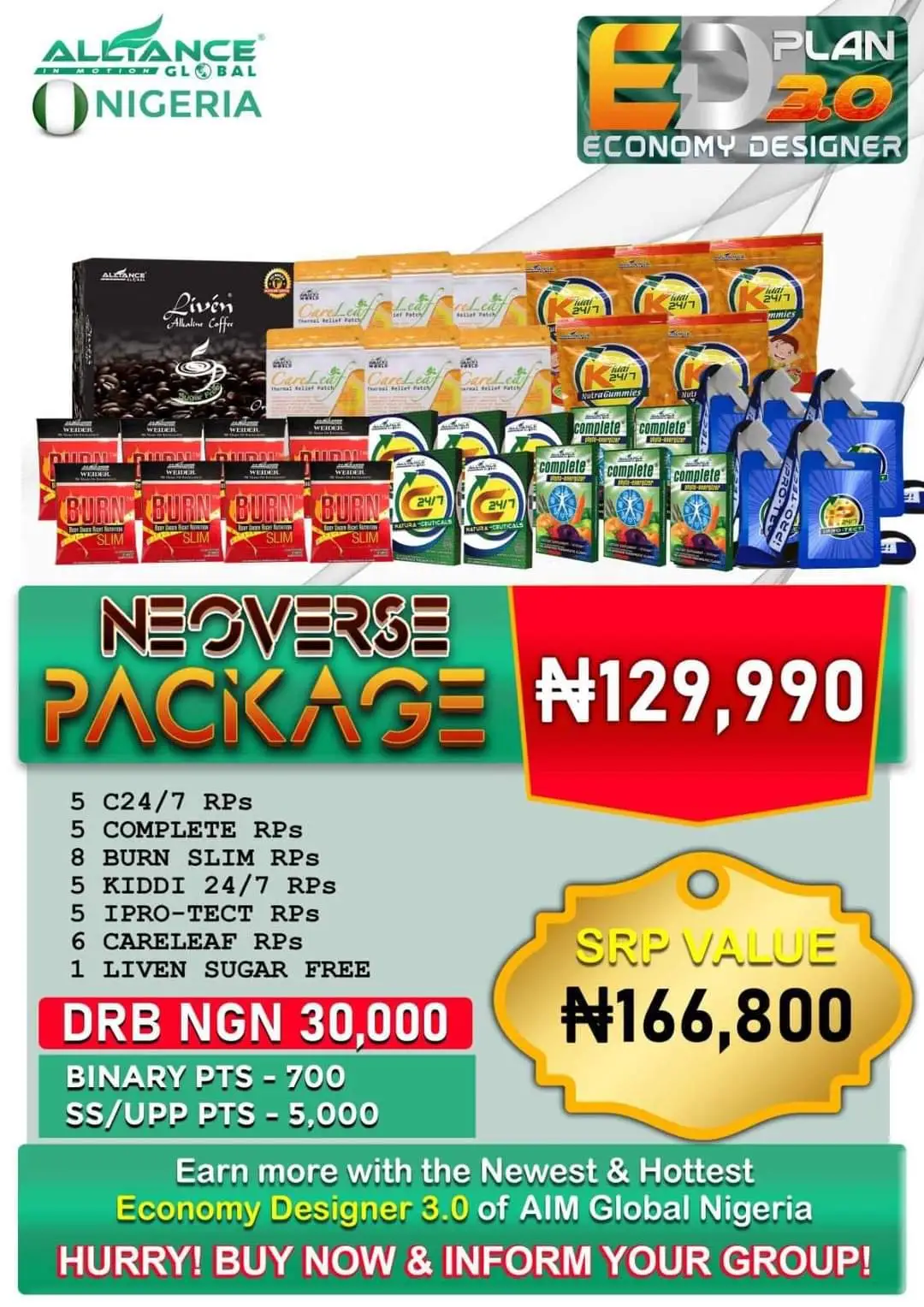 ₦129,990
Neoverse Package
₦259,990
Technoverse Package
Testimonials
What Our Members Have To Say
Our produts, packages and approch have continued to change lives for the better. Read testimonials from our members, and understand why we are prefered and trusted.
View All
The customer care service of this company is top-notch. Whenever i have a question or issue, they quickly respond and ensure my satisfaction. They care about their members, i highly recommend them.
Ibukun Adejumo
To be candid, I have lost several times and that has beclouded my judgement, but AIMGLOBAL changed my perspectives about network marketing. Sign up to have you dream fulfilled, THEY ARE THE BEST.
Prince Ben Okon
Their products; C247 and Choleduz was introduced to me to cure excrutiating pains i suffer for over 7years. Today, i am cured and stronger without any pains. Try their various products, it works miracles.
Felicia Anike Baku
I recently subscribed to the Enterpise Package, It was not only affordable, but also the newest and hottest ED 3.0 package offered. Today i have made unimaginable profit through product sales and referrals
Gozie Ikechukwu
Thank you AIM Global. You have not only changed my life but also that of my family and friends too. I started with th ₦79,990 package, earned alot, now i have upgraded to megaverse package.
Amina Ibrahim
FAq's
Frequently Asked
Questions.
With as little as (₦79,990 Naira or $195 for the Entriverse Package), you can start this business and generate a Residual & life-time income for yourself and your family.
Yes. An individual can have up to 7 accounts with their names under the Alliance In Motion compensation plan condition. Success is guaranteed when you input the required efforts into your business.
We operate a 100% no-delay, no hold bar policy on paying our members all over the world, and this is why we are the only network marketing company in Africa that is paying on a daily basis.
View All FAQs
Latest Articles
Our Recent Blog Posts
Did you notice what they have on them? That is AIM GLOBAL IPROTECT (now known as ENERCHI PENDANT). This product works against CoronaVirus and all forms of deadly diseases like Lassa Fever and the rest. Use AimGlobal products to stay aware and alive.
According to Social Media Examiner, a personal brand is a relationship with you, an individual who exists separately from your company. The process of personal branding involves finding your uniqueness, building a reputation on the things you want to be known for..
If this old farmer can decide to join AimGlobal because he wanted to make a good legacy for his children, he said and I quote: "I don't wish my children go through my hard time and I choose to pay for good future of them now".Join us now let begin the raise to end poverty and achieve our dreams.
---